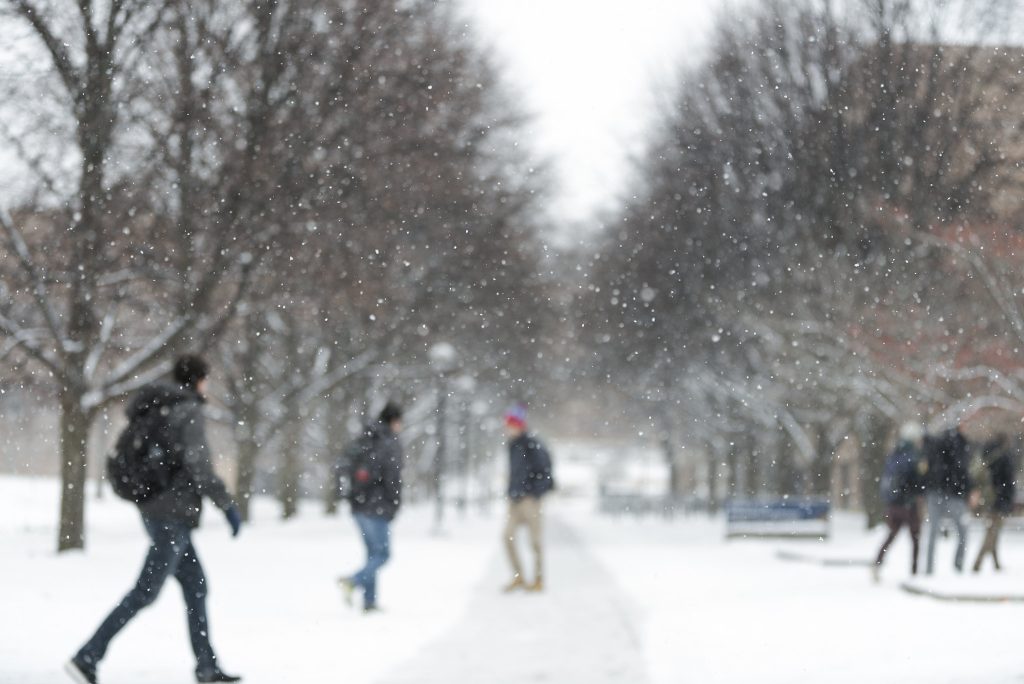 Transit
Campus and Michigan Medicine service will be modified as follows (see Holiday Calendar):
There is NO BUS or SHUTTLE SERVICE on December 25, 26, and January 1 and 2.
Modified service will operate from Tuesday, December 20 – Saturday, December 24 (see Holiday Calendar). Parking permits remain required in all lots and structures (until noon on December 23).
Service ends at 6pm on Dec 24 and 31.
Between Tuesday, December 27 and Saturday, December 31, only Wall St. Express (weekdays only) and Winter Break Northwood routes will operate.

Wall St. Express will run a special holiday schedule between 6:15 am and 8:00 pm on weekdays to and from the Wall St. area and the U-M Hospital. Bus frequency will vary from 7-8 minutes depending on the time of day. Please check the departure schedule.
Commuter lot parkers are encouraged to park FREE along Wall Street and walk or take the Wall St. Express to/from the hospitals. There will be NO BUS SERVICE for Glazier Way, Mitchell Field, NC78, NC90/91, Green Rd, Crisler Center and East Ann Arbor commuter lots from Dec. 24 – Jan. 2. Regular Service to these lots will resume on Jan. 3. See Holiday Parking Map.
Winter Break Northwood buses will run every 40 minutes and will follow the Winter Break schedule.

East Ann Arbor Employee Parking Shuttles, Michigan Medicine Late Night Service (ends midnight Friday, Dec. 23), Ride Home and State Street Ride will not operate from Dec. 24 – Jan. 2.  Service will resume on Jan. 3.
Paratransit Service will not be available on Dec. 24, 25 26, 31 or Jan. 1, 2. A reminder that there is no Paratransit Service on Weekends. Registered passengers who need service between Dec. 27 – Dec. 30 may call Golden Limousine directly at 734-999-0468 and choose option 1. Normal operations will resume on Jan. 3.
Permit Parking
From noon on Friday, December 23 – 6:00 am Tuesday, January 3:
Parking permits are not required in most U-M parking lots and structures (noon Friday, Dec. 23 – 6:00 am Tuesday, January 3). Recommended "free" parking options for Medical Campus employees include:

Structures – Glen, Ann, Catherine, Wall Street Structures, Palmer & Fletcher
Lots – M27, M28, M29, M34, M50, M65, M66, M87 & Fuller Pool

Parking permits are required in P1, P2/P3, P4 & P5 structures, M71 and M95 (Arbor Heights) surface lots. These parking areas will be enforced throughout the holiday season. In addition, special signed spaces (Gold, Accessible, Service, Business, Commercial Vehicle, etc.) will require appropriate permits and remain enforced at all times.
Yellow AVI permit parkers will have access to park in P3, P4 & P5 during the day as is typical for holidays/season days beginning on Saturday, December 24 (program description).
Medical Campus afternoon or night shift staff, whose schedules do not align with Wall St. Express bus service or "free" options, can park in P2 (December 24 – January 2). Staff must exit via a patient/visitor lane and show their Yellow or Orange parking permit to the Attendant for free exit.
Patient/Visitor Parking
Parking Customer Services Offices (523 S. Division St. and UH South) will be closed beginning December 24 and will reopen at 7:30 am on January 3.
Fleet Services will be closed Dec. 24 through Jan. 2. Vehicles to be rented over the season day period will need to be picked up prior to closing on Dec. 23. Fleet Services will reopen at 6:30 am on Jan. 3.
Service Stations: The Baxter Road Service Station will remain in service throughout the season day period. The Kipke Drive site will be accessible on a limited basis, as the gates for the SC10 Lot will be closed during non-operational hours.
Fleet Garage will be closed Dec. 24 through Jan. 2. For vehicle emergencies when the garage is closed, contact University Police (763-1131) and your call will be returned by a garage supervisor.
Waste and recyclable collection needs will be monitored and performed during the season days as needed. Call the Facilities Services Center (647-2059) if there are additional needs.
Thank you for your cooperation!