Logistics, Transportation & Parking (LTP), on February 3, will launch a new real-time bus information system powered by Clever Devices.
The new system will enable riders to see university bus locations in real-time and predicts precise arrival times for every campus route and stop.
Riders will enjoy a number of new features, including: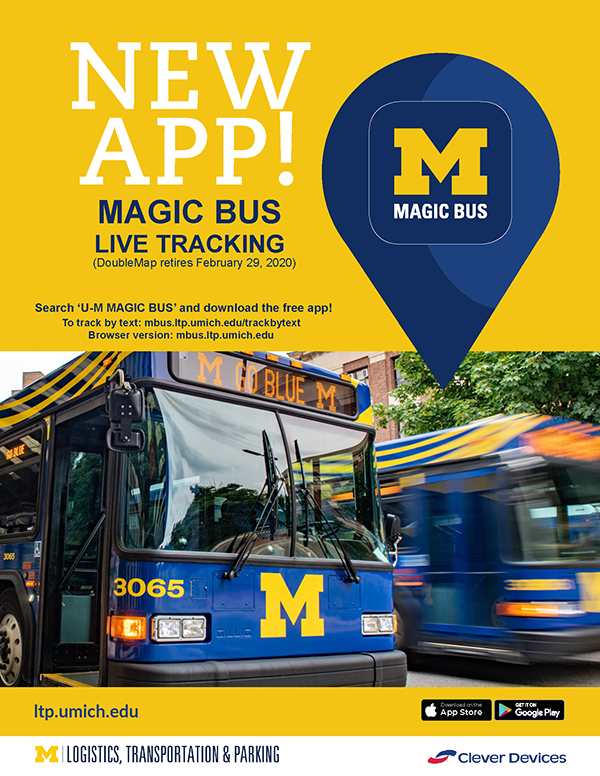 Ability to sign up for text service and prediction alerts by route, stop and times of day

More accurate prediction algorithm which utilizes both schedule data and historical data 

Desktop and mobile applications built on the Google Maps platform

Automated stop announcements, so you'll always know what stop you're at and what is coming up next
The system also includes a variety of benefits for LTP internal operations such as more reporting functionality, improved automated passenger counting, digital runsheets and hardware longevity.
On February 3, riders will be able to use and download the new Magic Bus system.  The old (DoubleMap) system will remain live until February 29, 2020.
Where can I find U-M Magic Bus Real-Time information?
Use the desktop interactive map to see real-time bus locations and arrival predictions OR use your mobile device to view Magic Bus real-time information optimized for small screens:

mbus.ltp.umich.edu

Download the U-M Magic Bus app by searching 'U-M Magic Bus' at the

Apple Store

or

Google Play
What features are available in the new Magic Bus app?
Stop Times: 

Check stop times for your stop by using your location, bus stop ID or selecting the route.  When accessing Magic Bus data, you can obtain information quickly by using bus stop ID numbers. Each stop is assigned a unique four-digit number to use as a short-cut when making a real-time information request. Bus Stop ID numbers will be posted at all University of Michigan bus stops.                

Real-Time Map: 

See where your bus is currently located.

Trip Planner: 

Plan your trip to your destination.

Subscribe: 

Create an account with Magic Bus to give you access to service alerts and stop time notifications.

Track by Text: 

Magic Bus can give you up-to-date stop times via text message. 
How does Magic Bus work?
Magic Bus uses data from many sources including real-time bus locations, route information and service notices to predict when a University of Michigan bus will reach a stop along its route. The Magic Bus website, mobile app and other channels can access these predictions, along with other information, through the U-M Magic Bus API (application programming interface) to show you where your bus is and when it will arrive at your stop.
What resources are available for developers?
Magic Bus offers a free API for developers – please use this link to create an API account (after first setting up your Magic Bus account).